Two Pedals but no sequential 'box
HSCC Classic Porsche and FF1600 racer Steve Deeks has been busy banging in the testing mileage in 2022 – but fossil fuel has played absolutely no part in it. Deeks has put over two thousand flat out 'clicks' on the clock – onboard his bespoke dual-road Pashley racing machine - the Pashley Cycles Morgan – Tributo Beetle - a bike created exclusively for him in 2021 by Stratford upon Avon cycle manufacturer, Pashley Cycles. The relationship lead to a joint venture going forward.
Enter the
Pashley Paddock
When we moved to Stratford upon Avon in 2020, I was deeply impressed to learn that there was an all-British bicycle manufacturer in the town. The business, England's oldest cycle manufacturer, established in 1926, was saved from moving production offshore in 1994 by a management buyout lead by the new MD - Adrian Williams, who is an enormously impressive character, and resolutely determined to keep British engineering alive and local. The company is owned by the employees. I did a deal to develop a Pashley Morgan 110 in the same RS orange as the 911 SC race car - then proceeded to ride the wheels off it for the next eighteen months. I still do. It's a magnificent thing.
The idea for the Pashley Paddock came to me when I was dragging a trolley full of Formula Ford 1600 rims uphill to the tyre truck in the back Paddock at Brands Hatch earlier this year, on the hottest day to that point.
Having spent the previous few years seeing motorised pit-bikes being increasingly outlawed in paddocks throughout the World, plus understanding the need for our sport to clean itself up wherever we can, this seemed like such a brilliant concept. Plus it became obvious that the Pashley Paddock could have all kinds of other uses too; leisure, hotels, business - indeed I have been getting interest from admirers with plans for their Paddock that I never dreamed off.
Talking of dreams, I wanted to build the vehicle I wanted to own, and in consultation with the factory who already made my customised Morgan Tributo Beetle, we created the 'prototipo'. I wanted the most rugged Pashley cycle possible - one that would excel as a bike in it's own right, be used daily, detached from the trailer in a moment, and featuring it's paintwork in team/sponsors colours, and with a chassis 'blade' that would be doing a marketing / PR job wherever it was seen. I imagined the bike at a race meeting, being leant to sponsors kids, being used to ferry tickets to the maingate, for engineers to cycle to a corner, for drivers to bang in laps learning the track after testing - as an excellent tool for the race team at home and on tour. I envisaged the trailer, with a spare front and rear tyre, a quicklift jack and a fuel can on it, the front carrier packed with tools, hustling through the Brand's tunnel, heading to the tyre truck, or, fully legally, heading out on the road, with it's rugged three speed gearbox, to the nearest supermarket to pick up dinner.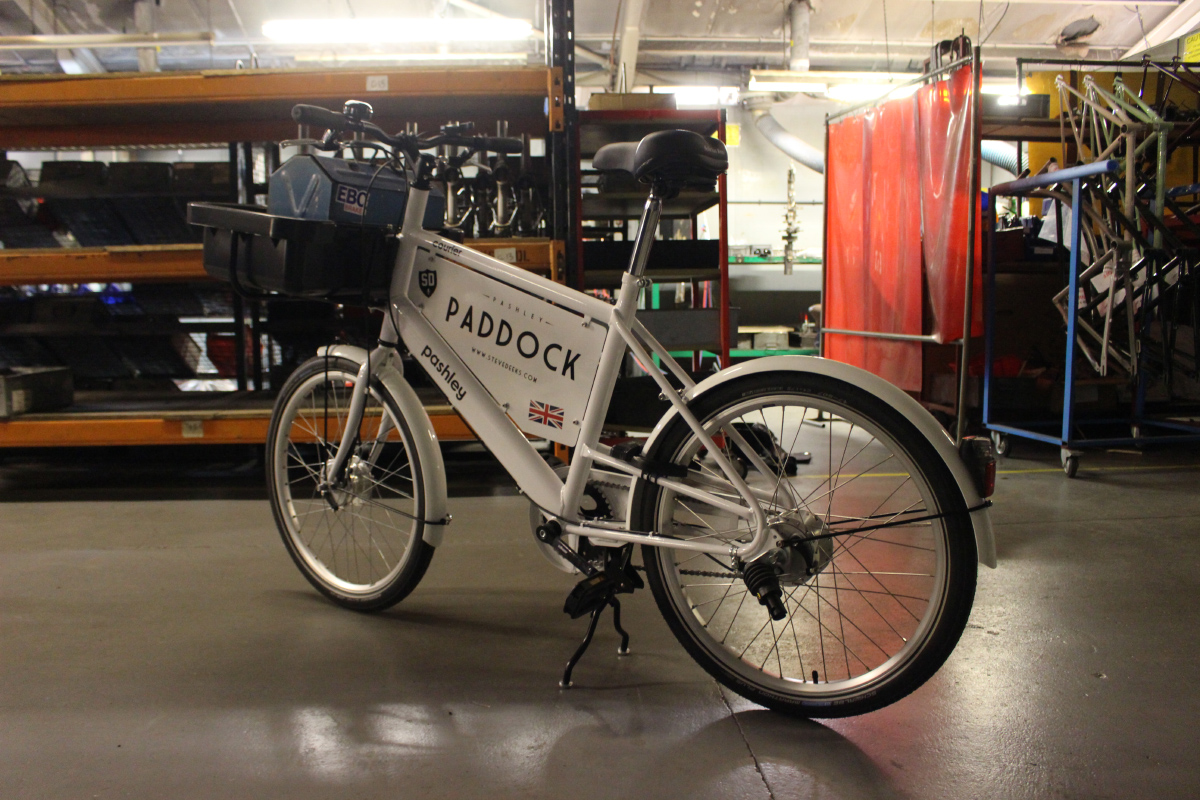 The Pashley Paddock will get you fit, doesn't need fuel, charging, insurance, tax - or a licence to ride. It won't wake anyone up late at night in the Paddock, it's lightweight to transport, with a frameset made of the highest quality BRITISH materials, is infinitely rebuildable, will outlive the team, drivers and mechanics, comes with the articulated trailer, lights, stands and running gear, transports sixty kg in the trailer and sixteen in the carrier - and, maybe the best bit for race teams - comes already factory painted in your colours and logo'd with your sponsors insignia with our special etching process. For just £1650.
The only challenge we have is build time - our average Pashley cycle has between a two to three weeks waiting list - these thoroughbreds are handbuilt by craftsmen in Stratford upon Avon, not shipped in from a factory in China. Each Pashley Paddock is a numbered edition, and the manual is signed by the builder. Like a GTR engine. There are craftsman in our Stratford upon Avon factory with forty-four years experience in the game, I know, I met them to chat and understand how cycles are built. The original way. Old school British engineering. We are gearing up to build as many as we can before the 2023 season, but realistically that amount is pretty limited.
I set the Track Pack business up to handle the sales and marketing of the Pashley Paddock - we will be creating a page on our Steve Deeks website to detail every engineering component that goes into it's build. This is not a 'use once - bury in landfill' that arrives pre-rusted from China in a container - this is beautiful performance machine that has been designed to perform for many years. Zero emission - maximum fun.
I am really proud of what we have created here; I have loved owning and riding the Morgan Tributo Beetle - still do - but now the Paddock takes it to a whole new level. I'm a manufacturer - not a garigiste! - and I will be looking after every customer personally.
Pashley Paddock - Lightning Bolt
For teams and operators with a requirement to be able to cover heavy mileage at pace, probably fully loaded and definitely when speed is of the essence, we created The Pashley Paddock - Lightning Bolt.
A revolution in delivering the generous torque directly into the crank set, the PP Lightning Bolt takes the PP concept to the next level. Effortless, smooth and linear - with 'access all areas' ground covering ability - the electrified Pashley Paddock combination costs just £3000, and is, of course, also fully road legal.
Contact me for further information, for a test ride - or to place an order.
testimonial
"Pashley are very excited to work with Steve as he takes us into the pit lane with the "Pashley Paddock". We have worked in close partnership with Steve, and his enthusiasm for cycling, British engineering, and the Pashley brand has brought this project to life. His racing knowledge and experience means the Pashley Paddock is the perfect transportation solution for race teams and their equipment."
ADRIAN WILLIAMS
M.D. Pashley Cycles